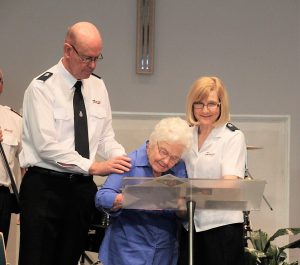 Rod, Sue's Mum Lenora (aged 90), and Sue on the occasion of their enrolment as soldiers  with the Salvation Army, January 15th 2012.
It was while I was preparing the funeral service of my wife Sue's mother, that I was impacted by the importance of generations. For Sue's mum had just been promoted to glory (a Salvation Army term) and with her passing at the age of 96, she would be the last of her generation.
I decided to reflect on this thought at the funeral service as Sue and I would now be members of the remaining senior generation in our family line. It was a defining moment and I wanted to share some perspective on the subject of generations.
GENERATIONS LIVE ON
Mum's passing would not be the end of Mum's influence in succeeding generations. Her life and her influence will live on in the many lives of those she touched, her extended family, the many children she impacted in her years of Sunday School teaching and the lonely people that were always welcome in her home.
GENERATIONS CONTINUE TO SPEAK
Mum's accumulated wisdom was often encapsulated in her various "one liners". Sue can never forget Mum telling her when she was relating to a difficult person that she "could afford to show extra grace" because she had been the recipient of God's amazing grace – that's why she was named Susan Grace. Sue has always applied herself diligently to any task she has set herself to undertake, perhaps because she will never forget her Mum's words that "practice makes perfect" and "hard work never hurt anybody."
GENERATIONS LEAVE A LEGACY
The legacy can be for good or bad. Our lives have an impact on others, whether we intend it or not. As a pastor and mentor for some years now I have grown to learn that leaders cannot expect to take the people they are leading beyond the level they themselves have attained for we cannot expect others to do what we are not ourselves prepared to do.
GENERATIONS ARE WRITING THEIR EPITAPH A DAY AT A TIME
I listed the following 6 qualities of Sue's mum at her funeral that she consistently displayed over her lifetime:
GRATITUDE
DELAYED GRATIFICATION
GENEROSITY
FORGIVENESS
INTEGRITY
AN ETERNAL PERSPECTIVE ON LIFE
Seeing Sue's mum was the last of her generation, I then invited those of subsequent generations who attended the funeral service to write down the six qualities they wished to be remembered for so that they might maximise the legacy that they wanted to leave for others that would follow  them.
Interestingly, when I resigned from my ministry as a pastor and took on the full time role of coaching and mentoring leaders I registered a business name called EQUIPPING THE NEXT GENERATION. And just so that I might stay focussed, Sue and I moved into a new home 3 months ago which has proved to be a wonderful provision of the Lord, in would you believe…………. Legacy Crescent.
Finally, a few keys for leaving a great LEGACY :
Live INTENTIONALLY. Live like Jesus who "did not come to be served, but to serve, and give His life as a ransom for many." Matthew 20:28
Live LIFE as a GIFT. "You are not your own; you were bought at a price therefore honor God with your body." 1 Corinthians 6:19-20.
Live the life of a good steward knowing that one day we will stand before Jesus to give an account of our lives.
Live to be the BEST you can be. Never stop learning and growing. You will never exhaust the potential that God has placed within you. There is always more. The second half of life is meant to be more productive than the first half.
Live as a ROUND PEG in a ROUND HOLE. I take great comfort in the fact that the Lord desires to "fulfill HIS purpose for me." Psalm 138:8. I am not meant to be a second class someone else, I am meant to be a first class me.
Live to FINISH WELL. Live like Jesus who said, "My food is to do the will of Him who sent Me and to finish His work." John 4:34
At Sue's mum's funeral, I was reminded that we are now members of the senior generation of our family. The Bible has much to say on the subject of generations. I close with the verse that was laid on my heart on the day I went to the government department to register the business name of my ministry, Equipping The Next Generation.                  "Even when I am old and gray, do not forsake me, O God, till I declare your power to the next GENERATION, your might to all who are to come."  Psalm 71:18