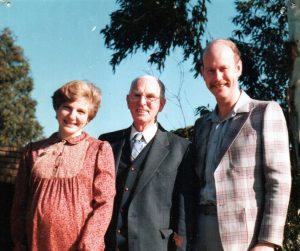 Rod and Sue (slightly pregnant) with Mr Sanders in 1983 on one of the occasions he                                                   visited our home in Melbourne.
My first appointment in full time ministry in 1980 was at Blackburn Baptist Church in Melbourne.  It was the largest Baptist Church in Australia and I was given charge over the children's, youth and young adult ministry, quite a challenge.
Even at this stage of my life, I had begun to develop the philosophy, 'to grow the ministry, focus on growing leaders'.  Consequently I searched for two key books on leadership and on making disciples that each leader would be required to study.  My two books were 'The Master Plan of Evangelism' by Robert Coleman (a brilliant book describing Jesus and his discipling of his team of 12) and 'Spiritual Leadership' by J Oswald Sanders.
In the process of developing a very basic leadership course, I started to look at every person in my ministry as a potential leader and I spent much time studying one key issue, "Who is the person God uses? What are the qualities I should focus on developing to raise up a growing team of spiritual leaders?"
Mr Sanders' book would be used to help shape a growing army of leaders that would grow to around one hundred within a few years. And four of these leaders would rise up to become full time department leaders with their own leadership teams and then move on to develop their own significant ministries.
Spiritual Leadership was an inspiring book, but it also never minimised the price that a person would be required to pay to have a place of impact in the kingdom of God.  "They (Jesus' Disciples) desired to attain leadership 'on the cheap', but Jesus' words soon disillusioned them.  The fundamental lessons that greatness comes only by way of servanthood, and that first place in leadership is gained only by becoming everybody's slave, must have come as a great and unwelcome shock. It is noteworthy that only once did Jesus say that He was leaving His disciples an example, and that was when He washed their feet (John 13:15) – an example of servanthood."
So keen was I to get as much as I could of Mr Sanders that I contacted his mission (Overseas Missionary Fellowship) headquarters and asked if I could have an appointment with him every time he travelled to Melbourne.  This they willingly arranged and over the years I spent some precious sessions with him.  I arranged for him to come and speak to my leadership team and to preach in my church and he was always a welcome guest in my home.
Mr Sanders had so much to pass onto me. One of his key subjects was that of Self Leadership, and in particular the issue of "discipline".  In his chapter on The Qualities of a Leader he wrote the following about DISCIPLINE.
"A leader is a person who has learned to obey a discipline imposed from without and has taken on a more rigorous discipline from within. Those who rebel against authority and scorn self-discipline – who shirk the rigors and turn from the sacrifices – do not qualify to lead.  Many who drop out of ministry are sufficiently gifted, but have large areas of life floating free from the Holy Spirit's control.  Lazy and disorganised people never rise to true leadership.  Many who aspire to leadership fail because they have never learned to follow. Discipline in early life, which is prepared to make sacrifices in order to gain adequate preparation for the life-task, paves the way for high achievement."
On one occasion, he spoke powerfully to my leaders on the Disciplines of God.  He listed the following five disciplines that God uses to bring us to maturity in order that we might fulfil God's purposes for our lives.
The discipline of disturbance.  Like a mother eagle (Deuteronomy 32:11) God at times disturbs our nest to force us to fly, lest our wings fail to develop and we never achieve maturity.
The discipline of darkness.  To be fruitful in life, we need the rain and the wind and darkness as well as the sunshine and fine weather. (Isaiah 45:3)
The discipline of disappointment.  When God allows disappointments to occur in our lives to reveal that He has something better to give us.
The discipline of discrimination.  Like Asaph in Psalm 73, we need to be careful that we don't envy the arrogant when we see the prosperity of the wicked.
The discipline of delay.  There are times in this age of instant gratification when God appears unreasonably slow.
Mr Sanders practiced what he preached.  He was a man of steel and developed a life of discipline through some difficult experiences.  He was always writing another book. (he published over 30 books of which more that two million copies were printed, including translations into 23 languages).  He retired in 1969 and then spent the next 23 years constantly travelling to fulfil a growing list of speaking engagements.  Wherever he might be, he would rise very early in the morning to spend time in his devotions and writing his next book.  It is not surprising that his favourite character was Caleb (Mister wholehearted) who was asking the Lord for mountains to conquer in his eighties.
Mr Sanders was a Caleb to me.  He modelled the life of Jesus to me, he personally encouraged me and always had a special word for me.  On my last contact with him, I asked him about the next book he was writing.  He replied that he was writing a book on heaven-'Heaven Better By Far'.  He said he would soon be there and that he wanted to do some research before he got there.  He died soon after that meeting.
I commend to you the life and writings of Mr J Oswald Sanders.  Make sure you have a  well-read copy of Spiritual Leadership in your library and numerous spare copies to give to your leaders and emerging leaders.