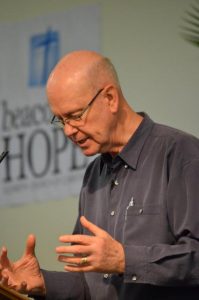 (68)  "HE SAVED THE BEST UNTIL LAST"
"………and the master of the banquet tasted the water that (Jesus) turned into wine…… Then he called the bridegroom and said, 'Everyone brings out the choice wine first and then the cheaper wine after the guests have had too much to drink; but you have saved the best until now.'" John 2:8-10
As I recently read these words in my daily Bible journaling, I was deeply stirred and was prompted to write the following response with great conviction.
I live in a season of life that is commonly known as old age where:
* I feel a stirring to stand aside and take a back row seat and become a spectator.
* It is not expected that I will always stay on the cutting edge of growth, but rather be content to live in the past.
* I no longer need to see myself as a STEWARD of the gift of life that God has entrusted to me. Instead, I now can adopt the attitude of the OWNER who has a right to be free to live the remainder of my life as I choose to do.
* I gradually lose sight of the great purpose for which I was created and now am free to substitute more pleasurable pursuits which don't fully satisfy and are subject to the law of diminishing returns.
* I could forget that one day (perhaps soon) I will stand before the Lord of the universe to give an account of the gift of my life.
OR ALTERNATIVELY:
* I serve a Saviour and Lord who has saved the best until last and I have now entered the most fulfilling season of my life.
*I choose to finish well and know a day is coming when I will pass into the presence of my Father God and say,
"I have brought you glory on earth by completing the work you gave me to do." John 17:4 and I will hear the words, "Well done, good and faithful servant! You have been faithful with a few things; I will put you in charge of many things. Come and share your master's happiness." Matthew 26:23
I am glad that with Jesus, it is possible that He saves the best until last. I commend His lifelong purposes to you.
__________________________________________________
(69)  "AN AUDIENCE OF ONE"
"Watch out! Don't do your good deeds publicly, to be admired by others, for you will lose the reward from your Father in heaven. When you give to someone in need, don't do as the hypocrites do – blowing trumpets in the synagogues and streets to call attention to their acts of charity! I tell you the truth, they have received all the reward they will ever get." Matthew 6:1-2
I have learned that it is not just what we do in life that is important, but the motivation why we do it is just as important. And ultimately we have two options. We can be people pleasers or we can be God pleasers.
Jesus made it clear that to live our lives to please our heavenly audience of One was a far better option because it:
* avoids the impossible task of having to please everybody
* presupposes that we want to find our security and our identity in our love relationship with God who loves us unconditionally.
* releases us from the need to be appropriately recognised by others  for all that we do
* says to the world: "I have only an audience of One. Before you I have nothing to prove, nothing to gain and nothing to lose." Os Guiness
* guards against the temptation to compromise our standards because we think no one will notice
* removes confusing mixed messages "Work willingly at whatever you do, as though you were working for the Lord rather than for people. Remember that the Lord will give you an inheritance as your reward, and that the Master you are serving is Christ." Colossians 3:23-24
I dedicate this WORD to my wife, Sue who day after day for the last 15 months has spent long hours caring for our daughter, usually arriving home after midnight every night. All she has had is an audience of One and the sustaining grace of God and the faithful prayers of some friends.
__________________________________________________
(70)  "THANK YOU"
"Give thanks to the Lord for He is good!"  Psalm 118:1
One day as I was alone with the Lord in my daily devotions I heard a distinct voice stir within me. "Rod, you spend time with Me every day, which is commendable, but there is something missing. You never take time to thank Me for all I do for you and for who I am."
Here was a defining moment where my life was changed and from that day onward I resolved to start my journaling with thanksgiving. I would first of all spend time reflecting on the previous 24 hours and think of four things for which I could thank God and write down in my journal.
The great preacher Jonathan Edwards identified two types of thankfulness. "Natural gratitude" which is thanksgiving for blessings received. This is a good thing when all is going well. But Jonathan Edwards identified a deeper level of thankfulness he called "gracious gratitude." This is where we give thanks, not for good things we have received, but for who God is – for His character. He is loving and forgiving and wise and unchanging.
Chuck Colson wrote, "This gracious gratitude for who God is also goes to the heart of who we are in Christ. It is relational rather than conditional. Though our world may shatter, we are secure in Him. People who are filled with such radical gratitude are unstoppable, irrepressible, overflowing with what C.S. Lewis called 'the good infection' – the supernatural, refreshing love of God that draws others to Him."
Developing the discipline of an attitude of gratitude has given me better perspective, the ability to see my life through God's eyes, and it has helped me start each day with a renewed, humble spirit. Psychologists have even proved that it is good for your health and mental wellbeing. It's a great way to start your day. I commend it to you.
__________________________________________________
(71)  "GREAT PEOPLE ARE READY TO HELP ME"
I have always lived with the conviction that I was called by God to make an impact for Him and that step by step He would lead me and provide the resources I would need to achieve His great purposes. In the process, the following words of Jesus have been a valuable guide to me:
"My Father is always working and so am I……I tell you the truth, the Son can do nothing by Himself. He does only what He sees the Father doing." John 5:17,19
In my years of ministry I have never applied for any position; I have always walked through God's open doors that have been provided for me in various forms.
And in the process I have trusted God to bring people into my life who would serve with me in my places of calling. One day I came across the following words (author unknown) to remind me that "great people are ready to help me" and I positioned these words in a place of prominence on my office wall.
"GREAT PEOPLE ARE READY TO HELP ME……..at the right time in the right way, people I don't even know yet. I promise I will never give up because I don't have the help, but I will trust God to provide. God has the resources to help me that I have not even considered. There are thousands of persons with all sorts of talents and skills that God can bring into my life in order to fulfil His plans. I will open my eyes and see the faces of people around me. I will open my ears to hear what they are saying. Today, tomorrow, next week, I will meet someone who is just the right person that I need and that person will come along at just the right time to fulfil that need and I will marvel that God arranged it so beautifully."
And as I look back I can recall so many people who emerged (see my article)  Leaders EMERGE – They Don't Just Appear. Identifying the Stages of Leadership Emergence. | Rod Denton (roddentoneng.com.au) at just the right time and have since gone on to follow the father's purposes for their lives and impact the world in which they have been called to serve.
And I am led to say, "Only God could have done this! Glory to His name."
Dedicated to all the great people who responded to the call to help at just the right time.
___________________________________________________
(72)  "TRUST THE GIVER AND NOT THE GIFT"
In 2008 I resigned my position as Lead Pastor of my church to take a faith step to begin a new ministry I called EQUIPPING THE NEXT GENERATION. It was a defining moment as I realised that I would be walking away from all previous means of financial support. One morning as I was praying about this challenge, a clear word was impressed upon me, "Rod, as you move forward you can trust the gift or you can trust the Giver."
And in the subsequent years I have learned that God's work done in God's way and God's timing will never lack God's provision. It has not always been an easy lesson, but it has been a lesson of critical importance to never doubt the faithfulness of the Giver to supply all my needs as I partner with Him in the things HE IS DOING.
One of my mentors in the process was the prophet Elijah who, in a time of famine, was told to camp by a brook where he would drink form the brook and eat bread and meat that would be supernaturally brought to him by ravens. What an amazing provision until……..we read that one day, "the brook dried up." What a challenge. And Elijah had two choices, to stay at the brook and trust the gift, which usually lasts for a season, or trust the Giver who is eternal and unchanging.
Elijah trusted the Giver who directed him to move on to a town called  Zarephath where he was led to a poor widow, of all people, who would be blessed by God to be a source of provision for Elijah (Read the story in 1 Kings 17).
He continued to walk by faith and not by sight and to trust the Giver.
"The education of our faith is incomplete if we have yet to learn that God's provision works through loss…It is, in fact, the material insecurities in life that cause our lives to be spiritually established. If the Lord had led Elijah directly to Zarephath, he would have missed something that helped to make him a better man – living by faith at Kerith. And whenever our earthly stream or any other outer resource has dried up, it has been allowed so we may learn that our hope and help are in God."   F.B. Meyer
I have discovered that the way we respond to brooks drying up in our lives is one of the most important lessons we can learn…..if we choose to trust the Giver and not the gift. In the process our faith (more precious than gold) is strengthened and we are equipped for greater responsibilities. Here in lies a timely message for Christians, for churches and for denominations in these uncertain times.
___________________________________________________
(73)  "ASK GOOD QUESTIONS"
* "Everyone communicates……. Few connect."  (John Maxwell)
* "If you want to become a better leader, the KEY is simple: learn to ask better questions."  (Carey Nieuwhof)
* "Jesus asked 307 questions. He was asked 183 questions of which He only answered 3." (Martin Copenhaver)
* A recent study conducted at George Washington University showed that listening can influence up to 40% of a leader's job performance.
As I have grown to understand that connecting with people is my responsibility, the more I have realised the importance of listening and asking questions instead of just talking to people. Studying the life of Jesus has been a big help as has the influence of mature mentors in my life.
Asking good questions not only reveals that I am listening, but also that I care about people and am interested in them and respect them. It also helps me to find out what people really believe and guards against making unhelpful judgements. To ask good questions I need to:
* develop a healthy curiosity about people.
* focus on what others are saying and not on what I want to say next.
* display attentive body language.
* put my phone away.
* be thinking in advance and preparing for the conversations that are ahead of me as I move through the day.
Effective listening has much to do with the all important issue of emotional intelligence. Everyone communicates but few people connect. Questions are a key to unlocking the door to connecting.
___________________________________________________