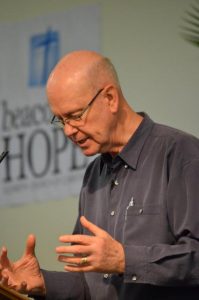 (49) "TRUE LEADERS ARE CARRIERS"
Moses said, "I cannot carry all these people by myself; the burden is too heavy for me." Numbers 11:14 Despite Moses having a large number of teachers and elders and tribal heads, it would appear that he felt lonely and overburdened. He had a lot of leaders, but no carriers. Having the title of a leader does not make a person a leader. Leadership is not about wearing a badge, it is about carrying a burden, accepting responsibility. Becoming a leader changes the way a person walks. Leaders carry a burden, are sensitive to people who are struggling, walk with the heart of a servant and notice things that others who are too self-focussed fail to see. Leaders are often the first to arrive and the last to leave. They notice rubbish when walking through the car park and stains on the carpet. Carrying is the hardest part of the journey. That is why leaders can only walk as fast as their burdens will allow them. So be careful when you appoint leaders. Make sure they are faithful in the little things before you entrust them with bigger things. Luke 16:10 Jesus modelled the life of a carrier when He said, "…..the Son of Man did not come to be served but to serve and to give up His life as a ransom for many." Matthew 20:28
(50) "LEADERS DEFINE REALITY"
The following words were first attributed to Napoleon Bonaparte, "The leader's role is to define reality, then to give hope." The apostle Paul exemplified these words when he was traveling as a prisoner on a boat to face trial in Rome. The ship was caught in a terrible storm and the situation looked so bleak that it was reported that all those on the ship had given up hope of being saved. However, it was Paul, not the ship's captain, who took the lead and said, "But now I urge you to keep up your courage, because not one will be lost; only the ship will be destroyed. Last night an angel of the God to whom I belong and whom I serve stood beside me and said, 'Do not be afraid, Paul. You must stand trial before Caesar; and God has graciously given you the lives of all who sail with you.' So keep up your courage, men, for I have faith in God that it will happen just as He told me. Nevertheless, we must run aground on some island." Acts 27:22-26 Leaders who define reality, then give hope: * are known for their integrity and guard against exaggerations. * prove themselves to be trustworthy. * are understanding of people's struggles. * encourage people to rise above their struggles and give them courage to face the future. * see opportunities in times of crisis that engender hope. * mobilise people with a common strategy that makes opportunities become possibilities. * open the door to a new future. * know that leadership involves paying a great price.
(51) "FINISH WELL"
"…. I consider my life worth nothing to me; MY ONLY AIM IS TO FINISH THE RACE and COMPLETE THE TASK the Lord Jesus has given me." Acts 20:24 Unlike leaders today where it is reported that only one in three finish well, the Apostle Paul was prepared to complete the task the Lord had given him even though "the Holy Spirit warns me that prison and hardship are facing me." Retirement never was an option for him. And neither it should be for us. So why should we finish well? 1. LIFE IS A GIFT – I am entrusted. All of my life is a gift from God. He created me and He gives me life and breath and all things. Acts 17:24-25 Every morning I wake up I am thankful for the gift of a new day. 2. LIFE IS PURPOSEFUL – I am a steward. I am not just created by God, but He created and shaped me for a purpose. "For we are God's masterpiece. He has created us anew in Christ Jesus, so we can do the good things He planned for us long ago." Ephesians 2:10 3. LIFE IS AN INVESTMENT – I will be rewarded. "For we must all stand before Christ to be judged. We will each receive whatever we deserve for the good or evil we have done in this earthly body." 2 Corinthians 5:10 I have a friend who said, "The older I get the more I find myself crying out to God, 'Let me finish well.' " May this be your desire as well.
(52) "IT IS NOT HOW LONG YOU HAVE LIVED, BUT HOW WELL YOU HAVE LIVED"
I keep the following note written by Mark Twain in my diary. "Twenty years from now I will be more disappointed by the things I didn't do than by the things I did do. So sail away from the safe harbor and catch the trade winds in my sails. Explore. Dream. Discover." Forty two years ago I resigned from my job in the business world to travel interstate with my wife of 9 months to take up a calling to pastor in a church. The last thing I did before vacating my work office was to read a note left by a fellow employee that said, "I wish you all the best in your chosen vocation, Rod. I think you are a very brave man." I have kept the note and added the following words, "The bravest person in the world is the person who misses the will of God. The wisest person in the world is the person who is in the centre of God's will." We cannot defer life and there is never a perfect time to sail away from the safe harbor. And we will never know how long we will have to live out the high calling of God. Both Jesus and John the Baptist had no more than 3 years, but Caleb was just as vigorous to go out to battle at the age of 85 as he was when he was 40. History recalls from the records of their lives, "It is not how long you have lived, but how well you have lived." How will history recall your life?
(53) "DEVELOP YOUR STRENGTHS AND RECRUIT TO YOUR WEAKNESSES"
One of the best decisions I made in my childhood was to convince my mother to cancel my piano lessons. She was a great pianist, but I wasn't made of the same stuff. However, with the passing of time I became reasonably proficient in sports; any sport that involved a ball, rather than track and field sports. As long as I focused on my areas of strength, I could advance to a very competitive level. By the time I took up my calling to be a pastor, I realised that I wasn't endowed with multiple spiritual gifts, but what I did have I should do my best to develop to my highest potential. By developing my spiritual gifts of leadership and teaching over a period of time I could develop from a 6 to an 8 whereas if I was to spend my time developing the 2 areas in which I wasn't gifted, I might have grown from a 4 to a 6. Consequently, it made sense to me to develop and largely work within my areas of giftedness and recruit to my leadership team those who were gifted in my areas of weakness. So an important part of my job description involved helping people discover their spiritual gifts and placing them in an area of the life of the church where they could make their greatest impact. Surely this is one of the most important discoveries a church can make if it is going to live out its God given calling in the world in which it has been placed. Consequently there should be no unemployment in the church because "All of you together are Christ's body and each of you is part of it." 1 Corinthians 12:27
(54) "KEEP THE MAIN THING THE MAIN THING"
The danger of drift has to be one of the most important issues that a leader must guard against. It doesn't take any energy to drift; it takes much effort to stay focused on our ultimate purpose. Robert Coleman in his classic book, The Master Plan of Evangelism, describes well the way Jesus kept the main thing the main thing. "Jesus' life was ordered by His objectives. Everything He did and said was part of the whole pattern. It had significance because it contributed to the ultimate purpose of His life in redeeming the world for God. This was the motivating vision concerning His behaviour. His steps were ordered by it. Mark it well. Not for one moment did Jesus lose sight of His goal." Consequently, we need to remember that: *it is not what we do that is important, it is what we do with what we do *programs are to be our servants and not our masters *effectiveness is not to be judged by the numbers that are involved, but by the fruit that is being produced *we are remaining focused and not drifting So how are you going? When did you last check that you were keeping the main thing the main thing?
(55) "P Y B F F"
January is traditionally a month in Australian churches when most activities go into shut down except for Sunday services which usually are conducted with a bare minimum of resources. It was assumed that everyone (including God) went on holidays in January or weren't available for a variety of reasons. Consequently, numbers and offerings would drop dramatically and valuable momentum was lost. One January I was prompted by the Lord to reverse the trend and put my best foot forward. I prepared a key series of messages, our children's workers prepared an exciting children's program instead of shutting down, the worship team was at its inspiring best, powerful testimonies were shared and our after service morning tea budget was increased. The results were amazing. * our attendances increased by 60% over normal January numbers. * offerings stayed at a high level. * a high number of visitors attended and many continued coming. * momentum was sustained. * God didn't go on holidays and neither did many of our people. I found out that many just stayed home in January because they assumed that the church was in recess. They now take holidays all year round. I was living with a false assumption based on the past. * I learnt a great lesson at the time P Y B F F I J – Put Your Best Foot Forward In January. Other lessons I learnt included : * Beware of unchallenged assumptions. * Beware of holding onto long held traditions. * Find out where the Father is at work and join Him. * Lead with a spirit of adventure and vision. So, in what way might the Father be impressing on you to P Y B F F where you are?
(56) "YOU DON'T GET A SECOND CHANCE TO MAKE A FIRST IMPRESSION" I was challenged by the fact that guests in churches often decide whether or not they will return even before the service starts. I assume that this way of thinking is not just limited to people attending church services. I discovered 3 that there is truth to the saying that first impressions are lasting impressions. And so it is true in all of life that we don't get a second chance to make a first impression. I have come to the conclusion that this fact alone should radically change the way we live our lives. Consequently, I list the following steps that I have been taking so that I might lift the lid on my life and be a first impression person. * Make it a 24/7 lifestyle wherever you go. * It is all about adding value to others rather than drawing attention to yourself. * Ask relevant questions and listen to the responses. * Look for ways to affirm and appreciate people. * Be sensitive to people's body language and needs for personal space. * Do unto others as they would want done to them, not what you would want done to you. * Smile! It is one of your greatest assets. * Remember people's names. * Follow up with an appropriate note. * Pray for the ability to be a first impression person. * Pray for opportunities as you move around the world in which you live each day. * If necessary, find a mentor who can help you be a first impression person. We only get a few seconds to make a first time impression, so it is important to be alert and seize the moments as they arise. Remember, you aren't guaranteed a second chance.
(57) "I DON'T HAVE TO, I GET TO"
In many ways it is our attitudes that determine our lives, not our activities. And one of the most important attitudes I have observed in great people is that they are "get to" people. Let me explain. After 22 years, Dr Robertson McQuilkin resigned from his valued position as President of a Bible College in America to care for his wife who was suffering from Alzheimer's disease. He said, "The decision to care for Muriel was made 42 years ago when I promised to care for her in sickness and in health. Duty can be grim and stoic. But I love Muriel. I don't have to care for her, I GET TO care for her." There is a vast difference between GET TO people and HAVE TO people, even though the circumstances of their lives can be very similar.
HAVE TO PEOPLE:  * See life as an obligation  * ask, "What's in it for me?"  * are grateful when they receive a gift * see difficult times as an imposition  * are never satisfied  * complain when they miss out  * are a burden to be with  * are motivated by law
GET TO PEOPLE: * see life as a privilege * ask, "How can I add value to others?" * are fulfilled when they give a gift * see difficult times as an opportunity to grow and learn * are content with what they have * always count their blessings * are a delight to be with * are motivated by love
Are you a HAVE TO person or a GET TO person? Usually the answer is not dependent on your circumstances. Rather it is determined by your attitudes and choices. Perhaps Jesus was thinking about this very issue when He said, "The greatest among you will be your servant" and I am sure He would want to add, "And you don't HAVE TO be a servant, you GET TO be a servant." What a high calling are our lives when we see them through GET TO eyes.