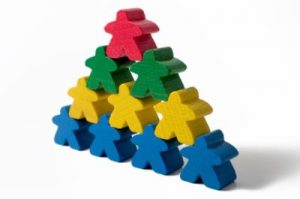 I will never forget the amazing initiative John Maxwell took soon after he began his ministry; an initiative that would impact my life of leadership development in a profound way.
Early in his ministry, John Maxwell took time to write down the names and addresses of one hundred of America's best leaders so that if he would be travelling to their city, he would try and make contact with them. His strategy was to request a luncheon meeting of one hour with the leader/s so that he might ask them to give feedback to his ten top leadership questions. At the end of the hour, he would thank the person with whom he was lunching for giving time to him (even if not all his questions had been answered). He would pay for the luncheon and give the leader $100 for making time available.
This story of John Maxwell was a great mentoring lesson to me of the fact that leaders are people who take responsibility for their own growth and take initiatives to create their own leadership growth opportunities. Out of this experience, I developed a mentoring axiom that I was to pass on to an endless list of emerging leaders; "Start at the top, and work your way down, they might say no, but they could say yes."
A few years later, as a young pastor, I attended a small group seminar that was presented by Australia's foremost Christian Education trainer, John Mallison, and during that seminar I felt a prompt to ask John if he might be a mentor to me. I had come to understand that the first principle of mentoring was the attraction of the mentor to the mentee. At the end of the seminar I asked John if I could start spending time with him even though he lived in Sydney and I lived in Melbourne. I was starting at the top and was prepared to work my way down. It took a few months before John agreed, and that was the beginning of an incredibly rich relationship that lasted for 30 years.
That was the first of a number of special initiatives I would take in the course of my emergence as a leader. Another special initiative occurred after I had been in full time ministry for 5 years.
That year I set goals to grow in the area of small groups, prayer, church growth and evangelism, and I can remember asking the Lord who I could connect with to learn about these designated growth areas. To my amazement, I felt Him respond, "Go to the largest church in the world." I had heard of this church, Yoido Full Gospel Church in South Korea, and so I wrote to Pastor Yonggi Cho, the leader of this church of 750,000 members at the time. I naively asked if I could travel to South Korea and meet with him to be mentored in these growth goal areas. Surely this was starting at the top and working my way down.
Some of my friends were not hopeful for me, until 2 weeks later I received a personal letter from Pastor Yonggi Cho inviting me to meet with him and attend his International Church Growth Conference. The story got even better. I then went to my church leaders who agreed to grant me two weeks leave and pay my expenses. And my time in Korea was a transforming experience. I personally met with Pastor Yonggi Cho, I spent time on the church's prayer mountain, I attended the Church Growth Conference and also a small group leaders training night for the church's 50,000 small group leaders and their assistant leaders. To accommodate these 100,000 leaders, the meeting was conducted in South Korea's Olympic Stadium in the pouring rain.
But there is another more recent story I want to share with you. Joshua is a very young Christian, but already an emerging leader of great promise, who is attending my leadership training course, Growing Big People. Recently, I shared my "Start at the top…." axiom at the course. A little later, Joshua came to me and shared how he had done what I had asked him to do. Joshua had recently been impacted by a well known international discipleship training course that had been conducted at his church by way of mp3 downloads. The teaching of the leader of the course had encouraged him in his growth as a disciple of Jesus. So Joshua decided to make contact with this leader to ask if he could talk to him by skype to ask him 10 questions that were stirring within him. This international leader willingly agreed to talk with this relatively new Christian Joshua, who had already realised that this axiom of "Start at the top and work your way down….." had no limits for the person who had a passion to grow, and the initiative to reach out in this technological age that knows no boundaries. And what I had learned from the teaching of John Maxwell, and then applied to my own life I was able to pass on to those who I in turn would mentor.
"Start at the top and work your way down, they might say no, but they could say yes."