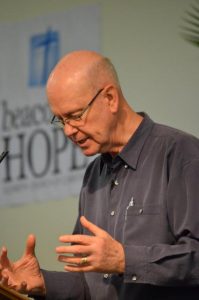 (58) "IT ALL RISES AND FALLS ON LEADERSHIP…….SELECTION"
One of the most underrated activities in the life of an organisation is the selection of leaders which involves developing a leadership emergence strategy. Especially this is true if you believe that an organisation will not rise above the level of its leaders. Consequently I was recently impressed by the leadership selection strategy king David adopted on one occasion. (1 Chronicles 11) He had set his sights on conquering the heavily fortified city of Jerusalem and making it the capitol of his kingdom. However, this was no easy task. David made this challenge to his troops, "Whoever is first to attack the city will become the commander of my armies." This meant that the first person to successfully advance uphill against well-armed soldiers on thick walls would pass David's leadership selection test. He was looking for a leader who would possess the qualities of bravery and boldness in the real world of battle. He had a "tested and approved to be entrusted" strategy. David's young nephew, Joab, was the first to break into the city and so became David's leading general for years to come. So if leadership emergence is vitally important, * you need a well planned leadership emergence strategy in your organisation. * you need to know the qualities a leader will be required to possess to be successful in your organisation. * you don't just select leaders on the basis of seniority, education, resumes and other human criteria. Remember, it all rises and falls on leadership……..selection.
(59) "A FUNERAL IS MORE HELPFUL THAN A PARTY"
"Better to spend your time at funerals than at parties. After all, everyone dies – so the living should take this to heart." Ecclesiastes 7:2 When conducting a funeral, I mention that one of the purposes of a funeral is to gain fresh perspective for living. In that regard, King Solomon was right when he said that it is "better to spend your time at funerals than at parties." It is important at funerals to give people opportunity: * to understand that life on this earth is not all there is * to realise that they are not ready to live until they are ready to die * to remember that life on this earth is fragile, uncertain and not to be presumed upon * to realise that life is a gift from God and that they are to be good stewards of that gift. What they do with the gift will reflect on what they think of the giver * to realise that one day they will give an account for what they did with that gift King Solomon wasn't a killjoy; he didn't say we are not to go to parties. But he did say that people are to get perspective for living that can only be found in the deeper things in life. To miss it, we do so at our own peril.
(60) "BE A FIRST CLASS VERSION OF YOU"
One of the great encouragements of my life has been to see people find inspiration in discovering their God created identity and then to live their lives conforming to the purposes for which God shaped them. Sadly, I find it discouraging to see people trying to live their lives in conformity to the expectations the world in which they live places on them regarding a certain image and values. The truth of the matter is that "we (each) are God's (unique) masterpiece. He has created us anew in Christ Jesus so that we can do the good things He planned for us long ago." Ephesians 2:10. In fact, so unique are we that God created in each of us an unrepeatable heartbeat and fingerprint. Recently, my daughter Kathryn was in deep discussion with a colleague who was struggling with her identity. Kathryn finally responded to her deep struggle by saying, "You need to be a first class version of you and not a second class version of someone else. You need to be a round peg in a round hole." So liberating were Kathryn's words to her that her colleague wrote back to her, "Thank you for telling me that. What an inspiring quote and so on the mark for where I am right now. That was exactly just what I needed." You are a special and unrepeatable creation of God. Make sure you become a first class version of you. I give you permission.
(61) "ALWAYS BRING SOMETHING TO THE TABLE"
One of the qualities I have been consciously working on in recent times is that of being someone whose life is characterised by bringing something to the table. In short, it is someone who adds value to the world in which they live wherever they go. Recently, I initiated a conversation with the lady who serves me at my favourite Subway store and in the process I learned that she had been working there for 21 years. Suddenly I felt a prompt to go and buy her a twenty first anniversary card and a box of chocolates to celebrate her years of service. Now she waves to me every time I walk through the food court. I always buy extra copies of my favourite books to hand out to people to add value to their lives. I often stop to buy take away coffees to hand to people at the next meeting I will be attending. People who bring something to the table are:- generous, plan in advance, secure, intentional, bold, ask good questions, are well read and contribute intelligently to conversations, make a meeting more than a meeting, encourage, are servants, follow up after a meeting or conversation and know that they make themselves more valuable as they add value to others. They are like Jesus who said that He did not come to be served but to serve and give His life as a ransom for many. Matthew 21:28. So, live your life with the determination to always bring something to the table wherever you go.
(62) "A LEADER IS A DEALER IN HOPE"
"The only way to lead people is to show them a future. A leader is a dealer in hope." Napoleon Bonaparte There are many people in positions of leadership. There are few people who are actually leading. Winston Churchill was a great leader who empowered his nation with hope. On one occasion he said, "A pessimist sees the difficulty in every opportunity; the optimist sees the opportunity in every difficulty." Christian leaders should be dealers in hope because they serve a God of hope. Paul writing to the church in Rome said, "May the God of HOPE fill you with all joy and peace as you trust in Him, so that you may overflow with HOPE by the power of the Holy Spirit." Romans 15:13 True leaders will develop a culture of hope when they see God given potential in ordinary people, when in times of difficulty they say it is always too soon to give up, when they paint a picture of an inspiring future, when they trust God for the resources that are required for a God sized vision. If ever we are living in a time where we need to see a generation of leaders rise up who are dealers in hope, it is now. Leaders who can say with George Bernard Shaw, "You see things: and you say 'Why?' But I dream things that never were, and I say 'Why not?'"
(63) "IT'S NOT WHAT YOU DO, IT'S WHAT YOU DO WITH WHAT YOU DO"
On arrival at my new church, I soon discovered that a particular program was the most popular activity being conducted by the church. Not only that, but waiting lists existed for people wanting to join the program. However, on closer scrutiny I discovered that not one person in the history of the group had discovered a life changing relationship with Jesus Christ or joined the fellowship of the church. At this point, we had two options. To discontinue the program or do some radical surgery to the program so that it served the purpose for which the church existed. We chose the latter. From this experience, I learned some valuable lessons: * Just because you are busy, it doesn't mean to say that you are doing anything * Don't confuse programs with progress * Everything rises and falls on Leadership 2 * Don't compromise the purpose for which you exist * It's not what you do, it's what you do with what you do
(64) "WHEN WAS THE LAST TIME YOU DID SOMETHING FOR THE FIRST TIME?"
When was the last time you did something for the first time? I have come to the conclusion that Jesus lived a life that was predictably unpredictable and that those who follow Him will do likewise. A careful reading of the New Testament Church has led me to believe that a follower of Jesus Christ is someone who is continually being led by God to meet people they have never met before, who go to places they have never been before to do things they have never done before with an impact they have never experienced before. Consequently, I become a little nervous when I hear of comments like: * But we've always done it that way * If it isn't broke, don't fix it * If only we could go back to the good old days * I've always sat in this seat and I'm not changing now One of the greatest creative persons who ever lived, Walt Disney, created the title of IMAGINEERS for particular people who worked for him. They had to be good engineers and good at imagining and they were paid to create great things that didn't yet exist. Christians have the most creative person in the world living inside of them, the Holy Spirit, whose role it is to help them see what God is doing and to partner with Him. Our role is just to follow the prompts and like Jesus, live a life that is predictably unpredictable.
(65) "DEFINING MOMENTS"
Defining Moments are Tests or Experiences or Seasons that involve embracing a new challenge, or enduring great difficulties or overcoming some obstacle that requires Courage and Faith Steps and a determination to breakthrough at all costs and result in moving to a new level of growth, achievement, ability, influence, learning and future potential and ultimately an enlarged impact in the world. Defining moments are usually unexpected, confronting and require us to make a decision that will impact our destiny. The road of life is marked by critical defining moments. The road is never crowded, always upward and becomes narrower the further we travel. But to those who walk along it, it is a place of intimate fellowship with Jesus, and a place where our great purpose for living is shaped and unfolds and it is the road upon which we will ultimately hear the words, "Well done, good and faithful servant! You have been faithful with a few things, I will put you in charge of many things. Come and share your Master's happiness!" Matthew 24:21, 22
(66) "IT'S NOT WHAT YOU KNOW, IT'S WHAT YOU DO WITH WHAT YOU KNOW"
Mark Twain was credited with saying, "Some people are troubled by the things in the Bible they can't understand. The things that trouble me are those that I can understand." How true. In my daily Bible reading program, I recently came to 1 Corinthians 13, the well known love chapter. My initial reaction was to overlook this chapter as I was already quite familiar with it. But then I felt an inner prompting to spend time reflecting on it and to make a list of the qualities of love and score myself on how well I was doing. To my surprise, I listed thirteen qualities of love and humbly noted that improvement was needed in six of them. In the process, I was reminded that one of the greatest dangers in any church is to educate people beyond their level of obedience. In fact, I believe one of the symptoms of the decline of a church is where learning and education become an end in themselves. Jesus said, "But anyone who hears my teaching and doesn't obey it is foolish, like a person who builds a house on sand." Matthew 7:26 "If you love me, obey my commandments." John 15:14 James said, "But don't just listen to God's word. You must do what it says. Otherwise, you are fooling yourselves." 3 James 1:22. Consequently, it's not surprising that Jesus had some of His greatest battles with the academics and scholars of the scriptures in His day. So remember, it's not what you know, it's what you do with what you know that really counts.
(67) "CHOOSE YOUR BATTLES, WISELY" There came a time when I grew increasingly uncomfortable with the name of our church. It was the name given to the suburb by the developer when the church was first established, but was different to the actual registered name of the suburb. I was feeling that a new generation of people would not now recognise the location of the church by its name. I began an informal discussion with the goal of identifying a more suitable name for our church that would be more appropriate for a new generation. However, it wasn't long before I realised that for some people the issue was generating more heat than light and could compromise the momentum that we were experiencing. It was at this point that the words, "choose your battles wisely" caused me to consider a number of important issues.
1. Is the value of the outcome more important than the price I might need to pay in time and energy?
2. Will giving ourselves to this issue divert us from more important things and cause us to take our mind off the main thing?
3. Is this a bottom line issue that will serve the real purpose for which the church exists?
4. Is this matter being driven by my pride? After all, the Bible says "with humility comes wisdom." Proverbs 11.2
5. Do I have the unanimous support of my leadership team?
6. If the decision is right, but what about the timing?
7. Could I win the battle but lose the war and could the confidence in my leadership that be compromised?
8. Have I prayed about this and do I have a leading from God that is forming a conviction within me?
Ultimately, I chose to lay the issue down because I concluded that it is people who bring people to church. That is the surest way to reach newcomers who are likely to stay and integrate into the life of the church. And reputation is always more important than a name. I concluded that battles not fought are not lost, they are simply battles not worth fighting for. Sometimes unity is more important than being right. There were other battles that were worth fighting for, like the need to relocate into another property because we had outgrown our old property. But on this occasion I was glad that I chose my battle wisely, and with humility. I suggest that you do likewise.